Over the Fourth of July my wife and I finally pushed live her new WordPress-based portfolio site at www.jotyler.com.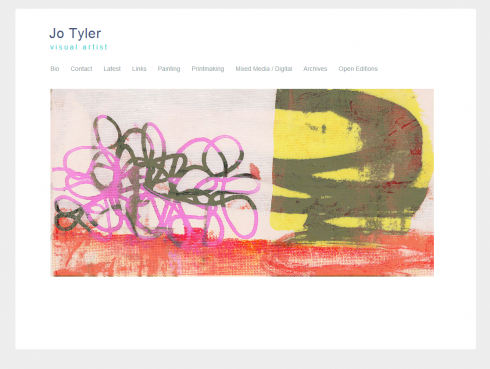 The site leverages WPFolio Two, which is a version (by Lara Schenck) of Steve Lambert's WPFolio redone to leverage the Thematic Framework.
In the process, I was able to contribute a few patches to the theme – yay github pull requests – which have already been accepted.
We also leveraged:
Meteor Slides for the slideshow on the homepage, which offers a random start and highly configurable transitions
Post Types Order – this lets Jo alter the order of images in any gallery or (if random isn't used) the slides in the slideshow. This caused issues with how WPFolio manages previous and next links, so we also installed Ambrosite Next/Prev Post Link Plus and had to override a few functions in the WPFolio Two theme.
Fine Art America and their ability to do "custom shopping carts" which are basically able to iframe in a header, making the shop look fairly well integrated into the site. (This meant making sure all the header links pointed to target="_top" to break out of the frameset).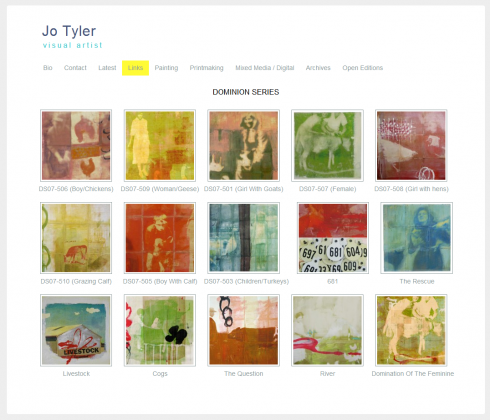 In general WPFolio Two was a joy to work with, and we were able to keep almost all our changes in a child theme or using the theme options. (Given more time, we probably could have stayed 100% away from changes to wpfolio two itself).
On the to-do list:
Truly native ecommerce in WordPress, rather than relying only on Fine Art America – for selling original works rather than open editions / giclee prints.
Responsive. Right now the design is fixed width – would like to at least have a few media queries for mobile and show a different stack and navigation to those folks