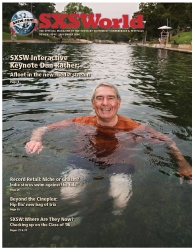 SXSWorld, "the official magazine of the south by southwest conferences & festivals," which is not apparently available online anywhere, but gets mailed to people registered for the conference, has an interview with Dan Rather conducted by Amanda Congdon (formerly of Rocketboom, now of Amanda Across America).
The interview outlines Rather's accomplishments (coverage of Hurricane Katrina, MLK and the civil rights movement, the Kennedy assassination, Vietnam, 9/11, and interviews with Saddam Hussein) and his upcoming show on HDNet. That show, Dan Rather Reports, is presented as a kind of "return to his roots" – Rather will have full editorial and creative control.
No mention of Rathergate (where Rather undoubtedly learned quite a lot about blogs – but for more on that story its worth reading this article from the Columbia Journalism Review) or "What's the Frequency, Kenneth" – my favorite Rather pop-culture reference.
Unfortunately, other than the brief mention that Rather's keynote will "discuss how emerging technology is reshaping the broadcast news media" there isn't much of a taste of what he'll talk about. Rather's obviously immensely qualified to talk about the mainstream news media in the U.S., but his assertion that "When it comes to predicting the future, my crystal ball is permanently in the hockshop" I have to wonder what he's got to say about emerging technology.