Sunday morning, I start to recognize what people mean when they say the panels start too early. Looking at the schedule before coming, I couldn't understand how 10am could seem early. (AjaxWorld, where I am as I write this, has panels starting at 7:30am).
The 10am panel was rather plainly titled "Using RSS for Marketing."
It was moderated by Tom Markiewicz (EvolvePoint) and panelists included: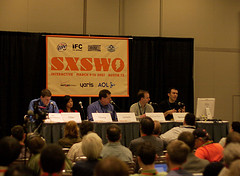 (Photo by Anton Olsen, Creative Commons attribute-non-commercial license)
That's a pretty strong panel of folks with expertise in syndication and content distribution.
In addition to my notes below, Tom points to a set of other folks' summaries.
My summary:
Content Syndication is great for marketing (and other uses)
RSS will become "plumbing" but for now you need to do some education of your users – chiclets are a kind of necessary evil at this stage of the web
Don't be stingy with content – headline only rss does not work
Pay attention to user experience where the majority of your users are, but recognize you don't control the context in which they consume your feeds
Raw notes:
Tom: how do you present rss to customers/prospects?
Emily: In terms of benefits to users – direct update, clear communication channel.
John: it doesn't matter what we call it anymore – I don't even use the b word anymore (blog) – it is more about what it is that you want to accomplish?
Bill: agreed – many of our users want to show ROI. They have rss but need to dermine what is it that they're going to do with it. We talk about content distribution and content syndication.
Tom: how quickly is RSS moving to the mainstream
Greg: With the release of IE 7 and integration into Vista as well as Firefox 2, we're really going to continue to see adoption curve going up – but it is hard to distinguish between the "I want updates" users who don't necessarily know it is RSS.
Emily: right now we don't really have good statistical data on what people are really using across the internet – in some ways, RSS has been part of the mainstream for a long time – a few large corporations have been using rss internally since 2005. (Disney, for example).
Greg: when google reader went live, and IE 7, we saw a huge spike in usage of feeds.
Tom: will the term itself (RSS) be something that people actually keep as a term, or will it go the way of POP/imap?
[But even a site like Gmail, which has a techy audience, still has a good decent explanation of how to configure your email client to use Gmail through POP3 – in other words, even plumbing still gets exposed from time to time on some kind of "how do I used this" page – not part of the daily experience of the tool, but instructions]
Greg: RSS is like plumbing – it will be like smtp – it's a car part under the hood that makes the ar run.
Tom: RSS can also be an API for anyone's website. You now have the ability to use this technology as the plumbing to share your content with all these other applications and technologies.
Tom: How are marketing teams using RSS?
John: Listening – setting up a google search on your company name and subscribing to the results – real time information on the things you are interested in. [I'd add technorati to that].
Greg: there's a massive cloud of content out there – all of it is available by RSS.
Bill: there's so much content being created every day – automakers, for example – people covering what is happening in
their industry, basically creating a blog to compete with auto publishers. They want to host the conversation.
Tom: if you're in marketing or responsible for anything having to do with marketing, and your not subscribing to a feed of your company name, you are not doing your job – its basic at this point.
John: I want to talk about using RSS to improve search results. Build and expand on your website with deeper dives into your content. Themed pages SEO optimized and using rss. Turn custom google search results into a published page – listing what's new in your specific search term.
Emily: optimize your pages with feed tags and they will show up better in google results.
Bill: the people we're working with are recognizing that original content, well indexed, is more important than our
beautiful creative (we spent all this money on our flash website but it doesn't build traffic the way original content does).
Tom: What are people doing wrong? Specifically in the RSS for marketing space?
[Interesting – seems like no one on the panel wants to take that one.]
Bill: being too stingy with the information. Headlines don't work – is their audience really ready for full text? Don't
be so worried about luring people back to the site.
Greg: don't try to get too fancy – just make five feeds. If you want to secure your feeds, use http authentication.
John: it is still important to teach folks how to subscribe. I like "add this" which takes them to a page where
they can figure out how to add their reader of choice.
Greg: don't get too fancy, in terms of images and layout – remember that you don't control where the content will be read and what kind of device they might be on.
John: consistency is more important than quality – You don't have to be brilliant – just keep a notebook and write in it
every time you're talking to a client and a question comes up.
Greg: support autodiscovery, but include the rss chicklets from the major feed readers / aggregator sites.
Do users really understand autodiscovery? No
Audience questions:
1. How would you optimize video content in your rss feed?
Provide a good description with keywords – doesn't necessarily
mean full transcript or anything, but a basic description that
will get indexed.
2. do you see flash video as the standard for video?
In terms of video – go try all the readers your users are doing –
and see what the experience is like.
Test what it is that you're hoping to do in a
number of different readers – don't just assume that it is going
to do what you want.