In the last couple a week, a number of surveys about Web 2.0 in the Enterprise have been published:
(The McKinsey and Optaros reports are free with registration)
So what should we make of all these surveys, and their conclusions?
I'll take the Forrester report first. They surveyed 119 CIOs at firms with over 500 employees, and found that a majority of those CIOs:
. . . report a strong desire to purchase Web 2.0 technologies — blogs, wikis, podcasts, RSS, social networking, and content tagging — as a suite, as well as an equally strong desire to purchase these technologies from large, incumbent software vendors.
They take this as a sign that that "the deck appears to be stacked against small, pure-play vendors" and argue that the future is in integrated suite, primarily created through acquisition by large incumbents. The problem, as Dawn Foster puts it in "What CIOs Want vs. What CIOs Have," is that:
There is a big gap between what many CIOs want / think they have and what is really happening within their organization. . . . CIOs may want web 2.0 suites from larger, incumbent software providers, but I suspect that the reality of what is actually used within enterprises over the next few years will differ significantly from this CIO vision.
In other words, what CIOs have a "strong desire to purchase" isn't necessarily what is available, what works, or what actually gets deployed. The problem is in the way Forrester asked the questions:
"Would you be more or less interested in these technologies . . . if they were offered as a suite of techologies?"
"Would you be more interested in these technologies if they were offer by a major incumbent vendor . . or if they were offered by smaller specialist firms . . . ?"
Asked this way, it is not surprising that CIOs expressed a preference for integrated suites and major incumbents. (Would you rather have to deal with 6 different vendors or just one? Would you like all your innovation safely packaged, without any need for customization, and without any disruption to your existing infrastructure?)
The false dichotomy is that the sets of technologies which make up Web 2.0 are not available in a fully integrated suite from a major incumbent vendor (Forrester's examples are Microsoft and IBM), and besides, what would it look like if it were?
(Intel's SuiteTwo is really the first candidate for the "Integrated Suite" vision, but I'm not sure how the whole is truly greater than the sum of the parts in that case – what is the benefit of linking your enterprise blogs, wikis, and rss feeds into a suite rather than integrating best of breed?)
The McKinsey report (subtitled "a McKinsey Global Survey") has some interesting conclusions, among them:
nearly three-quarters [of the executives surveyed] say that their companies plan to maintain or increase investments in Web 2.0 technologies in coming years.
Asked what might have been done differently . . . Forty-two percent say that they would have strengthened their companies' internal capabilities . . .
. . . nearly two-thirds of those whose companies are investing in [these technologies] think they are important for maintaining the company's market position, either to provide a competitive edge or to match the competition and address customer demand
Executives say they are using Web 2.0 technologies to communicate with customers and business partners and to encourage collaboration inside the company
They also point out that sectors where investment lagged in the last five years are "poised to move more aggressively now," using retail as an example.
The McKinsey survey is interesting to me in part because it aligns closely with my own experience, and with the Optaros vision of next generation Internet applications, but also because they included "Web Services" as one of the technologies under the "Web 2.0" banner. This helps explain their final conclusion that "technologies for automation and collaboration appear to be gaining more traction than some of the technologies that have received more attention in the press." Web services, as a core component of modern enterprise architectures, is clearly a fundamental building block and suggests a different approach to integration than the "integrated suite" approach Forrester suggests.
Finally, in the Optaros survey (full disclosure – I work there, if that wasn't obvious yet), there are a few conclusions worth talking about:
More than 60 percent of enterprises are aware of customer expectations for two-way Internet interactions
Only 19 percent give their current online applications high marks for the ability to offer two-way interactions
More than 64 percent of companies that have added NGI functionality are achieving positive results
Custom development is being chosen by a ratio of 4:1 over off-the-shelf software to deliver NGI functionality
Seems like it's that last one that has been most unexpected – for example This post on Read/Write Web. But I think our findings are consistent with McKinsey's finding that executives would have increased their internal capacity, if they could change anything about how they've deployed web 2.0 technologies.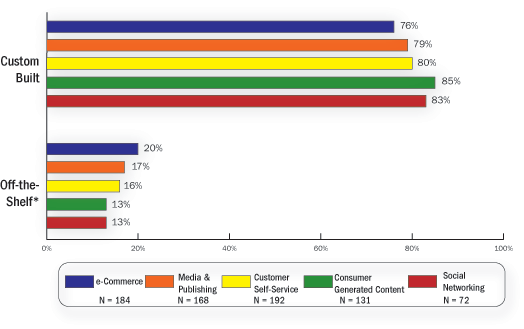 Really leveraging the technologies and techniques of the current generation of web innovation will require CIOs and their teams to look beyond packaged, integrated suites, to assemble best-of-breed applications and components into custom solutions which exactly fit their organizational needs.
The innovation in this area has clearly come from the open source community (and small startups formed to commercialize those innovations): not from large incumbent vendors bearing suites.
As Nat Torkington put it recently:
Web 2.0 is Open Source – the web is built on open source, and the scaling and platform challenges for Web 2.0 are the challenges for open source.