The PEW Internet and American Life project published an update last week on American's access to the Internet: Home Broadband Adoption 2007
The report finds that nearly half (47%) of all adult Americans now have a high-speed internet connection at home, according to a February 2007 survey conducted by the Pew Internet & American Life Project. The percentage of Americans with broadband at home has grown from 42% in early 2006 and 30% in early 2005. Among individuals who use the internet at home, 70% have a high-speed connection while 23% use dialup.
Or, put visually: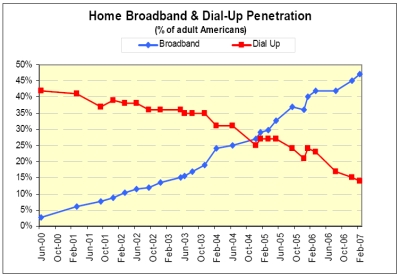 The report goes into more detailed breakdowns or rural, urban, and suburban households in terms of broadband versus dialup, and also considers African-Americans and Latinos.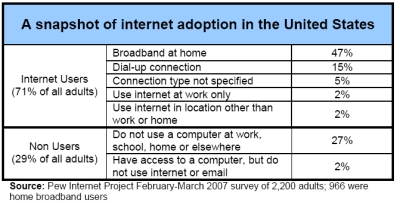 Download the full report (pdf)