Coming across Roger Dooley's post about Sears and their privacy policy (Sears- Marketers vs Lawyers, with a tip of the hat to Make the Logo Bigger) I decided to go check out the site he references, My SHC Community.
Unfortunately, no such luck (cue the "No soup for you!" clip from Seinfeld):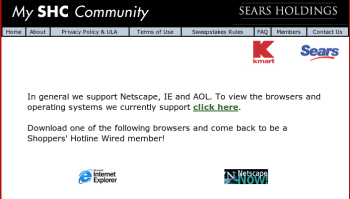 Was the problem that I was running Firefox rather then Netscape (Netscape? Really?), or that I was running Linux?

I clicked through, to find:
My SHC Community currently supports the following operating systems and browsers:
Operating Systems:

Windows 2000
Windows XP
Windows Vista

Browsers:

Microsoft Internet Explorer (IE) 5.0 and higher
Netscape 7.0 and higher
AOL 5.0 and higher
Firefox 1.0 and higher

If your browser or operating system is not supported by My SHC Community, we apologize for any inconvenience this may cause.
In this day and age, no Mac support, no Linux support? Why?
Is there some elaborate MS Silverlight functionality in this community? Some kind of Adobe AIR based application to install?
I assume there's just some overzealous javascript useragent detection at work here, but won't know until I find time to boot up my Windows virtual machine and check it out on IE on Windows XP. (You can actually click around on the site, but I don't see anyone to join the community without the right brower user-agent. I suppose it might be faster to just spoof my user-agent, I know I used to have a plugin for firefox which would make it pretend to be on Windows).
Then I'll likely never go back. Welcome to community!