Early last year I wrote about the complete opacity of the Facebook network process (see "who do I have to poke to get a network?"). You can request a network be created, but you have no real sense of what actually moves the request through any process.
Now, 15 months later, there is a network for Optaros – but I can't join it. (I also have no idea what finally triggered creation of the network – enough people requesting it? Enough people listing Optaros as their employer? I only discovered its existence because it showed up in a search result).

To join a network, one visits the account settings page, network tab, and uses the handy "add network" form, which you can see below: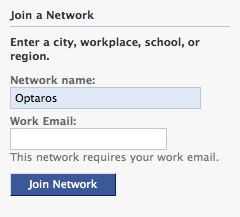 I fill in my work email address and submit, and the list of networks I belong to updates to this:

Yeah! That looks like progress. Get the email, click on the confirmation link, and the network status page says this:

You might think, at this point, that you're done. Wrong. Go anywhere else in Facebook and then come back to this "networks" list, and guess what you see?

I tried three times before I gave up.
One could go ask this question in the Facebook help section, but there's an awful lot of questions and no real answers there.
So now I have a work network, but so far only 1 out of the ~175 eligible Optaros employees has been able to join it.
Wasn't Groundhog Day in February?