While I wouldn't go so far as Serge Jaspers and call the new Times Reader 2.0 AIR application "the future of newspapers," I do think it's an interesting demonstration of how different models for content consumption are possible in the assembled web. In short, Times Reader makes the bet that for at least some users, the convenience and improved user experience of a desktop application will be more important than community.

Times Reader focuses on improving the user experience of reading the NY Times on your laptop, netbook, or home PC.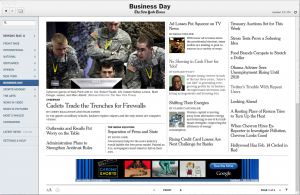 Using Adobe's AIR framework enables cross-platform (Windows, Mac, Linux) support, and makes possible offline access (the reader downloads and stores up to 7 days of papers). Intriguingly, the 2.0 version in some ways more closely mirrors the print edition of the paper than the online:
The first version of Times Reader was organized more like NYTimes.com than the printed paper. On the Web, where our readers may not visit every section, we play the same story across many sections. For example, a story about the sale of a sports team- might appear in both our Business section and our Sports section. In print, of course it will appear only once. On the Web, where our readers may not visit us every day, we sometimes leave stories that were published yesterday, or the day before, on the section front. In print, of course we only include today's news. In TimesReader 2.0 you will now see only today's stories, and only in the sections in which they were published in print.
(For more info on the new features and thinking behind the design see Sneak Peak of Times Reader 2.0).
As in the previous version, Times Reader provides an interactive version of the NY Times crossword (non-subscribers get an archived puzzle). Finally, this version of the reader adds a "News in Video" view to the "News in Pictures" view from the previous version, as well as a "browse" view which shows pages laid out in a matrix, and allows you to scan through the articles.
The experience of using the reader is actually quite pleasant – columns reflow automatically to fit available real estate, pictures are vivid, and the layout is clearly designed for reading on screen. What you lose, though, is the community. Look at this article view, for example: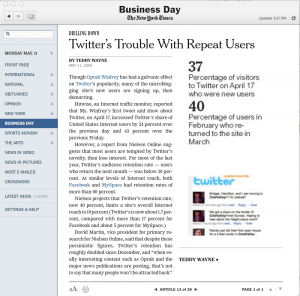 What if, while reading this article, I decide I want to share it with my friends, my colleagues, or my broader social network? What if I wanted to write a blog post about it? Not only do I not have any of the social sharing buttons users have come to expect (digg, stumble upon, facebook, twitter, most popularly), I don't even have a url (let alone a permalink – it is as though the content had no web representation whatsoever – planning for later articles which might be only available via Times Reader?).
Nothing in the interface points me to the same article on NYTimes.com, though a quick google search finds it as a post on the Dealbook blog, complete with email and share tools: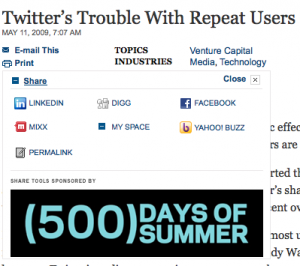 What about integration with Times People, the NY Times own social network style community? If I were a Times Reader subscriber (at the current $14.95 a month it's a pricey user experience compared to the web), would I be able to share my activity from inside the Times Reader with non-subscribers outside?
Will the Times Reader find an audience with those who miss the experience of reading the paper in print, and have no use for the community tools? One could argue that the NY Times through its APIs, Times People, and related efforts, offers more than enough community interaction for those who need it.
Is this a deliberate and strategic decision to offer different experiences to different audiences, or just a limitation of the 2.0 release?
Which is more important to you – community interaction or a pleasing user experience? Does it make sense to have to choose?