I was recently invited to try a service called Rollip, a web application which processes photos and applies effect to them. As a bonus, the first 15 people to visit the service using this link will each get 30 free credits: Rollip Online Photo Processing
The effects are similar to those you'd get by applying filters in Photoshop or Gimp, but all the processing happens on the server, requiring no software install – handy for working on a guest machine or for folks who don't need the full power of a graphics program but want to stylize a photo.

The process is very simple:
You choose an effect (from 40 available, in 10 categories, when I tried it)
You upload a photo, from your desktop
Rollip generates a preview, in lower resolution, for you to approve
Rollip processes the photo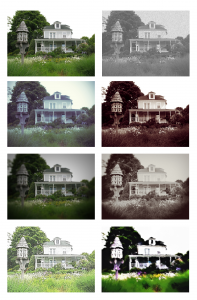 Credits – which are only used in that fourth stage (processing the higher quality full resolution image) and only if the image is successully processed – can be purchased at $2.99 for 15 credits, enough to process 15 high res photos.
I played around with a number of the effects on the image to the right.
Although there are other online image editing suites (WordPress 2.9 even has some basic image editing built-in), I like Rollip's selection of filters – not so many that it's overwhelming, but enough to add a bit of punch to an image. (I assume back when TechCrunch wrote about Rollip there was only one filter available?) .
There are competing services and applications, of course, including Photoshop Online – but Rollip is simple, quick, and free (if you are on of the first 15 using the link above) or at least cheap. (The service is also using Google Ad Sense – maybe at some point it will become free if it gets enough traffic?).
Rollip makes no claim to copyright or license on the images you upload or the processed, completed output, and has what I found to be a refreshingly simple terms of use and privacy policy – though I recognize to some folks this reads as a lack of professionalism.
If you're interested, also check out the Flickr Group, to which people are adding Rollip-processed photos.
What other services do you use to add interest to images?