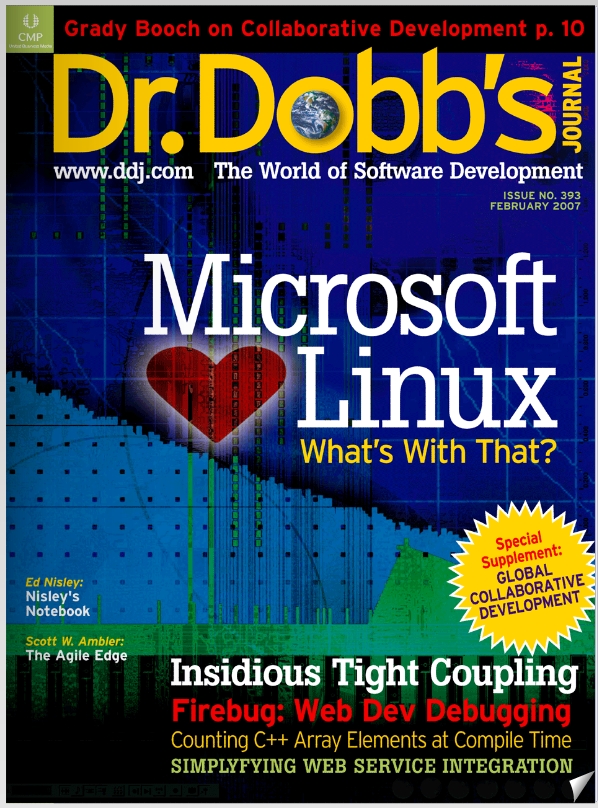 When I first saw the February 2007 Dr. Dobb's Journal, I actually thought that the "Insidious Tight Coupling" cover blurb at the bottom, in white, referred to the Microsoft Linux article.
It isn't – as the "insidious tight coupling" article makes clear, the author is referring to "the situation where one module depends on another module having some special state, or set of string literals, but where the compiler doesn't know."
But it's an easy mistake – after all, more than a few folks are convinced that something quite insidious is driving the recent agreements between the Redmond software giant and Novell, related to the SUSE Linux platform.
Michael Swaine, in the cover article "Microsoft Loves Linux: What's With That?" points to the increasing important of virtualization, and specifically the Xen Hypervisor, which was added to SUSE Linux back in November, and argues that "Microsoft wants more than just to play in this market – it wants to control it, and that requires astute technological and legal strategy."
Swaine plays out some of the conspiracy theories but ultimately doesn't settle on any particular interpretation, other than to point out Microsoft obviously feels the threat of Linux, and feels that one way or another this deal helps them in that engaging that threat.
Swaine also points out that "both the Oracle move and the Microsoft-Novell deal increase the legitimacy of Linux" – but if this is what it takes to be legitimized, perhaps it would be better to stay under the radar . . .