Seems like twitter has hit its tipping point this year at SXSW.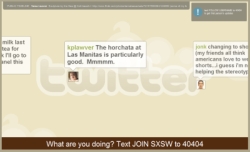 The twitter sxsw group page is being displayed on flat panels throughout the halls.
They also won an award last night at the Web Awards – in the blog category.
It's a neat app, but I have to say I miss the old school irc backchannel. There are a few folks popping in and out at irc.freenode.net on the #sxsw channel but it is pretty quiet.
Is it twitter which has killed irc, or iChat?
As one of the MacLess, is there a real backchannel on iChat at SXSW?
(I've got lots of notes on panels to blog about – wifi has been really shaky for me in the conference rooms, especially trying to get traffic on port 80 to liveblog – so I'm taking notes offline and will have to post later).