The Free Open Source Internet video platform sponsored by the Participatory Culture Foundation and formerly known as Democracy Player has relaunched as Miro.
Head over to GetMiro and download the Public Preview 1 (v. 0.9.8) release.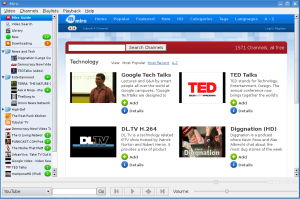 Miro is available for Windows, Mac OS X, and pre-packaged for a number of Linux distros (Fedora, Ubuntu, with Debian and Gentoo coming soon) as well as source code for the true DIY.
Miro lets you:
Play virtually any video file, across different platforms
Download and play full screen, high definition video
Subscribe to video podcasts, video blogs, any rss feed with enclosures
Locate new video content using the Miro channel guide
Download videos from YouTube, DailyMotion, Google Video and others
Download BitTorrent videos and watch them in the same application
Miro's based on the Mozilla XULRunner framework, and is an excellent example of cross-platform, non-proprietary alternative approach to taking Internet-based applications beyond the browser context, without losing the open, standards based approach that made the web successful in the first place.