Looking forward to the upcoming Drupalcon: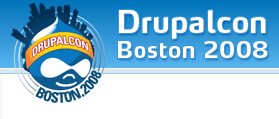 Drupalcon Boston 2008 takes place from March 3, 2008 to March 6, 2008 at the Boston Convention and Expo Center. There will also be a Drupal Code Sprint on March 7 at the Stata Center at MIT in Cambridge.
Drupalcon is the twice-yearly gathering of Drupalers to learn about, discuss & advance Drupal, and to network with other Drupal community members. With sessions targeted at everyone from novice to expert attendees, Drupalcon is where you go to advance your understanding and use of Drupal.
Note: Deadline is Today, Feb 11th, for submitting proposals.

AIIM Expo will be held at the same time and location, and Drupalcon attendees can visit the AIIM Expo Hall. For full access to AIIM Expo, separate registration is required.
Tracks & Sessions:
Marketing and business
Design and user experience
Site building
Community and core
Showcase and case study contest
Review the conference program and submit your own session proposal.
Conference Events:
Cost & Registration:
The cost to attend Drupalcon Boston is $195. This covers four full days of intensive sessions and tutorials, networking and social events, lunch and a t-shirt.
To register for Drupalcon, sign-up at http://boston2008.drupalcon.org.
Sponsorship:
Affordable sponsorship packages are available for companies who would like to show their support of the Drupal Association and receive visibility in front of hundreds of Drupal developers and enthusiasts. To learn more about sponsorships visit http://boston2008.drupalcon.org.