In this video, Jeff Howe, a contributing editor at Wired and the author of Crowdsourcing: Why the Power of the Crowd is Driving the Future of Business, presents during a Berkman Center Luncheon on some of the key issues around the concept, including:
What motivates the contributors in crowdsourced efforts? Specifically, to what extent are monetary incentives a driver as compared to extra-monetary ones?
What about "crowdsourced" projects which are not creative or knowlege-worker oriented, but outsourced menial labor?
How can or should "creatives" respond to the rise of crowdsourced alternatives?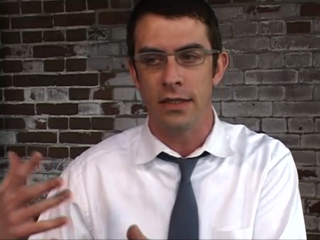 It's long – just over an hour – but really worth your time if you're interested in the issue of value that crowdsourcing raises. I especially enjoyed the extended Q & A session – which benefits from the collective wisdom and critical thought typical of Berkman attendees.
Howe admits a kind of radical ambivalence about the phenomenon of crowdsourcing and the ways in which it disrupts some existing relationships by changing the value of certain kinds of labor.
His ambivalence comes through in two ways. First, he focuses on the "creative" end of crowdsourcing – examples like Threadless, Innocentive, and iStockPhoto – rather than the "menial" end of crowdsourcing – Mechanical Turk's "Human Intelligence Tasks" like transcription, solving CAPTCHA's for spammers, etc. How does the equation for crowdsourcing change when your imagined participant isn't the "college kid designing t-shirts" but people in developing markets doing work for fractions of pennies?
Howe confesses he essentially ignored Mechanical Turk (and other arguably non-creative examples of leveraging large scale online labor) in the book – in essence because it didn't fit, in his mind, the picture of motivation he saw in the phenomenon in which he was interested. But are there really two fundamentally different models of crowdsourcing at play here, or is it just two different participating labor pools: one predominantly first world, leisure class, participating for fun and recognition, and another more developing world centered, participating for financial gain?
Second, he's also deeply sympathetic with those – increasingly including his fellow journalists – who are arguably displaced by the impact of crowdsourcing on the value of what they produce. What about established professionals in the field who see the market value of their work decimated in the process? On the other hand, what about those trying to break into the market, who have always found spec work a valuable mechanism for demonstrating their skills before gaining professional, full time employment?
It's especially interesting where these two issues come together – crowdsourcing for employement. What if anybody, anywhere, with any standard of living, could do your job and compete with your for your value?
There's a good, well edited video summary from a panel Howe moderated at SXSW 2009 on this topic, specifically focused on spec work in creative fields, and sites like Crowdspring and 99designs:
I'm reminded of the debate among programmers about offshoring, in which similar arguments still go on. Can the quality of the design produced at a crowdsourced spec site ever compete with that produced by a reputable, professional shop? How can a design that doesn't come out of an intimate, strategic, and interative process involving lots of face time and discussion with the client ever be truly on target? On the other hand, if the consumer of said work can't tell the difference, and the price is several orders of magnitude less, does it make sense to continue to argue they should pay the premium?
(See No!Spec for more on the arguments about the dangers of speculative work).
Finally, I also saw Howe give a version of this talk at Media Bistro's Circus event in New York during Internet Week, a few months after the Berkman Center talk. In his Media Bistro talk, Howe focused much more directly on crowdsourcing in journalism, highlighting as an example the excellent work being done at Spot.us, a kind of crowd-funding mechanism for journalists.
Ironically, to see that video, you'll need to subscribe to MediaBistro OnDemand, for $19/month or $180/yr. Apparently the downward pressure of crowdsourcing and free video from various sources (Berkman, SXSW) hasn't yet forced MediaBistro to share videos from their conferences for free.
Does that make his talk at MediaBistro more valuable than the talk at the Berkman center or the panel at SXSW?