I don't normally blog much about twitter: it seems like an already over-covered by other voices.
Lately, though, I've been seeing an increase in twittering of dubious value. For example, automatically following (or stalking, as Ari Herzog put it) folks who mention a given term, and overly friendly twitter accounts purporting to be young women who want you to see their 'special' photos on other sites. I'm sure I'm not the only one who's also seen lots of new followers whose usernames look suspiciously like they were generated by a script – JohnSmith18273, JaneDoe45039.
This week, for example, Ann from MarketingProfs mentioned that her dogs – King Charles Cavalier Spaniels – are staying with my wife and I while she's out of town. Then rt_cavs retweeted it: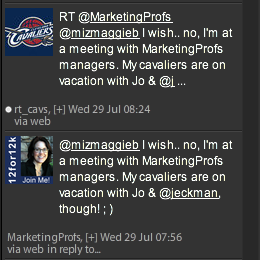 The problem, of course, is that her dogs have nothing to do with the Cleveland Cavaliers. I don't think Cavs fans are so enthralled with their team as to be interested in the dogs, or the cars, or any of the other things cavalier might mean.
When keyword matching twitterbots are at their best, they can broadcast tweets of interest to a broader community who might otherwise not have seen it. In cases like this, though, they just reduce the signal-to-noise ratio.