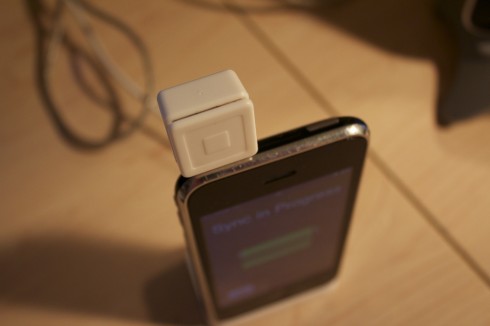 Got an email in late August that Square, the iPhone mobile card reader / payment acceptance application founded by Twitter co-founder Jack Dorsey, had begun shipping readers again.
Mine came this week – 2 of them actually. I'm pretty certain I only ordered one, so I'm not sure where the other one came from – both had the same address and name on them.
Square's going to have a huge impact on independent vendors: artists who sell at street fairs, bands selling merchandize at shows, stalls at farmer's markets, etc. The mobile application is free, the reader is free, and Square takes only 2.75% plus $0.15 per transaction when the card is present and swiped. I can even see this approach getting used in more traditional settings (think high end retail stores) in order to free the staff from the old point of sale terminal. (Not sure if Square will offer better percent-of-transaction terms to enterprises who do a certain volume once the rush of free accounts settles down, but I would if I were them).

Tested it out by paying myself $5. The app is fantastic (they were used to sell shirts at Drupalcon San Francisco so I'd already experienced the end user portion): easy to set up, easy to use, clear, and quick.
Here's the main screen when you launch the app: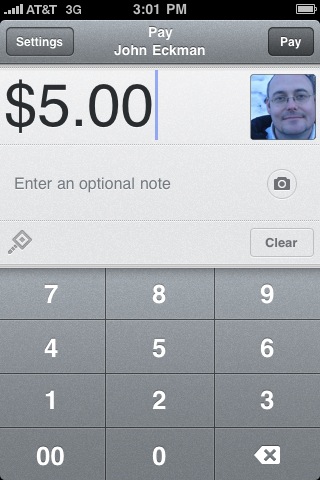 Once you've entered the amount and associated note, you can swipe the paying party's credit card through the reader, and the Square app checks for authorization, and allows the user to sign: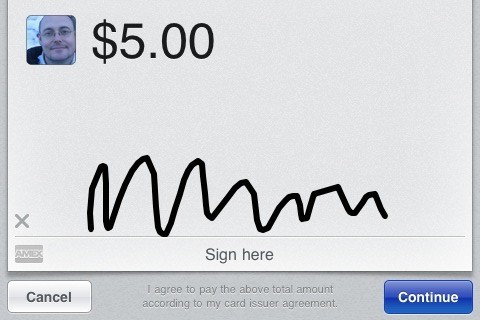 Once the person has signed, Square gets authorization, and allows the user to send herself a receipt. Here are the receipts for charging party (right) and paying party (left):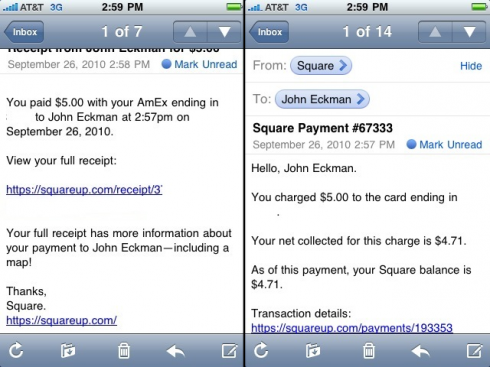 Note that the link goes to a page on square where the user can see full info about who they paid – including a map of where the transaction happened. The charging party can log in to Square and review all the transactions.
Square takes 2.75% of the transaction plus 15 cents, if the card was present and swiped, or 3.5% plus 15 cents if the card number was typed in. (Yes, you can set up an account and use Square even without the reader by typing in credit card numbers manually – you can also use it in this mode to accept cash, in which case Square keeps track of the transaction but doesn't charge anything).