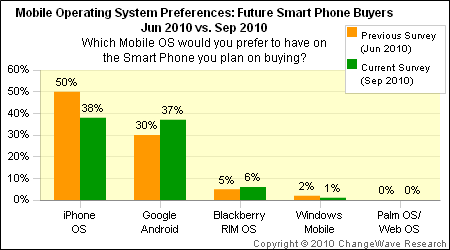 (via MediaPost)
I've been thinking that when my current contract is up this holiday season I would move to an Android-based phone. I've loved some things about my iPhone – it has essentially sold me on the utility of touch-based interfaces – but other things about it drive me batty, and the constant upgrade-jailbreak-restore dance just isn't worth the trouble.

Apparently I'm not alone. According to this survey from Change Wave:
Among consumers planning to buy a smartphone in the next 90 days, 37% say they prefer to have the Android OS on their new phone — a 7-pt jump since our previous survey and a new all-time high for the Google operating system.
Add this to the data from earlier this week that developers are betting on Android as an OS:
What's different is that percentage of developers who consider Android's long-term prospects to be brighter than those of iOS has increased by about 10% in the past three months. In June 2010, 54% of developers said Android had the best long-term outlook, compared to 40.4% who believed iOS would do better over time. In September, 2010, 58.6% of developers saw a better future in Android, compared to 34.9% who rated iOS's potential superior.
Of course folks have been predicting "the death of Apple" as long as the company's been around – I'm sure they'll do just fine without me. But it does feel like the ground is quietly shifting a bit.