Google's maps application is now available for Windows Mobile Smartphone edition based phones, like my Cingular Blackjack (Samsung i607):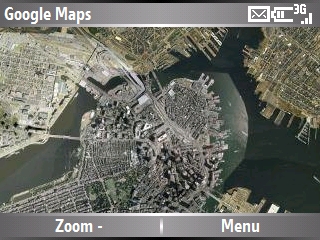 The left soft-key is zoom out, clicking on the OK button in the center of the navigation pad zooms in.
You can have satellite view or map view, though hybrid doesn't seem to be an option (may be dependent on level of zoom?).
Menu offers:
Find Location
Find Neaby Business…
Directions…
Change View (map/satellite)
Show Traffic
Track Location (GPS)
Clear map
Options
Help
Exit
Nice to have this and the Windows Live Search on the same phone – I'll compare their results next time I'm looking for directions.