Ok, this seems to be the week of me blogging about things being released, so I was going to skip the Miro 2.0 release announcement – figuring it has been well reported elsewhere – but then I got this in email: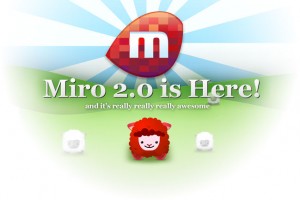 They're right, Miro is awesome, and it's an open source project which you can help contribute to, whether you're a coder or not.
Also in the email:
How can you help the most?

Send this message to your friends! Since we can't afford to buy our way into their hearts, we need you to tell them about Miro and why open media is important.
Translate! Only about 40% of Miro users are in English speaking countries. We need your help to translate Miro, our website, and the Miro Guide. Details are on our Volunteer Page.
Test and code! Got chops? Join in.
Help new users– you can answer questions and join the community conversation here: Miro discussion forums.

And don't forget to download Miro 2.0!