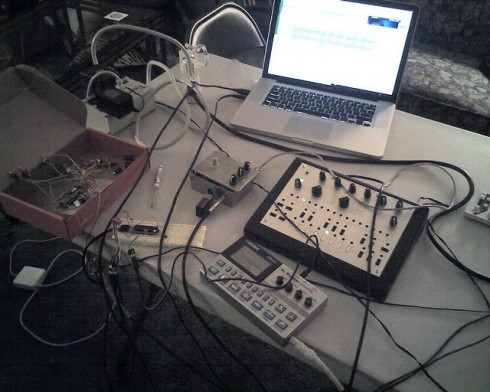 (Via Charles McEnerny of Well Rounded Radio)
Two events coming up in October in Cambridge dealing with music, social media, and hacking: Rockshop 8 and Music Hack Day.

First, on Wednesday, October 6th from 7-11 PM, is "Rock Shop Boston #8: A Social Media Experiment." Part of the Future of Marketing set of events throughout the week:
At Rock Shop Boston #8, we'll start off with a panel of musicians talking about using social media and the web to manage their careers and then live performances from Lagoon, Do Not Forsake Me Oh My Darling, RIBS, and Aaron Perrino (of The Sheila Divine + Dear Leader) Attendees will have "all access" in documenting the evening through social media, including photography, video, blogs, microblogs, etc. . . . The evening is FREE, sponsored by JitterJam, and you can RSVP at http://rockshopboston8.eventbrite.com.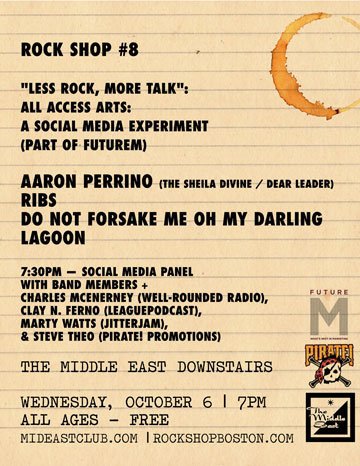 You can also check out the Rockshop series and a number of other interesting events under the Future of Marketing umbrella on their full event calendar.
Second, on October 16th and 17th, Music Hack Day is back:
The main goal of Music Hack Day is "to explore and build the next generation of music applications. It's a full weekend of hacking in which participants will conceptualize, create and present their projects. Music + software + hardware + art + the web. Anything goes as long as it's music related." See some photos and watch a video about the even at http://boston.musichackday.org Last year was terrific…even for non-hackers!

Music Hack Day Boston is also FREE and you can RSVP at http://musichackdayboston2010.eventbrite.com
Yes, it is two days long and still called Music Hack Day. Real programmers start counting at 0. Photos from last year's event:
Hope to see you at one or both of these events, though my own travel schedule may interfere.