This weekend Boston lives up to its reputation as a strong city for open source CMS activities, with both WordCamp Boston 2012 and Design for Drupal 4 in the same weekend.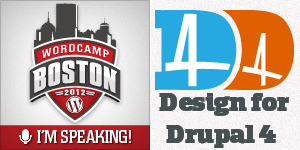 WordCamp will be at the George Sherman Union at Boston University again this year. I've not been as involved in organizing this year, as Kurt Eng has taken the lead role, working with Jon Bishop, Erick Hitter, Reiko Beach, Andrea Rosmarin, Matt Ulvila and Shea Baker. Glad to see such a strong organizing team – many of whom have been involved for the last several years. Based on everything I've seen so far, they've done a fantastic job.
I'll be speaking Sunday, June 15th, on "Why the @#@#$ Isn't WordPress a CMS?," and likely working the registration desk Saturday am.
I also hope, however, to at least spend some time at Design for Drupal 4, which is also Saturday and Sunday July 14th and 15th, over in Kendall Square Cambridge at the Stata Center at MIT. D4D is like a regional DrupalCamp, but with a specific focus on design and user experience. I had been planning to be there volunteering and perhaps speaking, but with WordCamp the same weekend I'm just hoping to get over there to attend some sessions – looks like I should at least hit the keynote Sunday am.
I'm always a bit amazed how little overlap there seems to be between WordPress and Drupal communities, given they're both open source CMS platforms based on PHP and (generally) MySQL. I know people like to pick their favorite platform and then be loyal to it, and some see WordPress and Drupal as competitors in some zero-sum game. But I always found that learning more about either of them made me a better participant in both, and improved my clients' ultimate outcomes.
Will you be trying to make it to both? Let me know in the comments.