Via Bill Ives' Portals and KM Blog I discovered that the folks at Information Architects Japan have released (in beta, naturally) the 2008 version of their highly popular Web Trends Map : Web Trends Map Beta 2008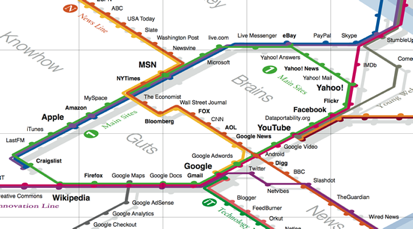 Unfortunately for me the download link is having issues – resulting in a corrupted PDF. But the interactive, clickable online version is working fine.
There are also a couple of posts describing the thought process and rationale behind the map:
The first of which includes this quick dig at Facebook's expense:
Facebook has moved to Nippori because, from a broader perspective, Nippori is boring. But it's still an important station (Nippori is a hub for Narita, Tokyo's international airport).
Nice.