So I'm up working late tonight (well, late for me – 10pm. I normally go to bed by 9 – I'm old) and I fired up Firefox to recheck the time of my flight tomorrow morning (Yay! DrupalCon DC).
I landed on the Firefox Google homepage, as I always do in a new browser window – http://www.google.com/firefox?client=firefox-a&rls=org.mozilla:en-US:official is the address, I believe it is the default shipped with firefox.
But look at what I see in the upper right hand corner where my email address should be (click on the image for full sized one):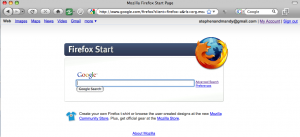 Very strange. I tried, just for investigation, clicking into "my account" or some of the other google services – I don't seem to be actually logged in as someone else. Anything which would require login actually asks me to login and doesn't prefill the box with stephenandmandy or anything. But it is really odd to see someone else's email in that upper right corner.
Anyone else seeing this?
(For the non *nix folks in the audience, whoami is a shell command on most unix/linux systems that tells you what user account you are currently logged in as – or, as the man page so concisely puts it:
whoami — display effective user id
Try it on your local *nix box today.)