Interesting article in yesterday's New York Times about blogs which combine "shop the look" with celebrity photos.
Specifically included are INFDaily, CelebStyle.com, and JustJared – though obviously there are many other picking up this trend, which has its origins in the celebrity stalking watching print magazine world.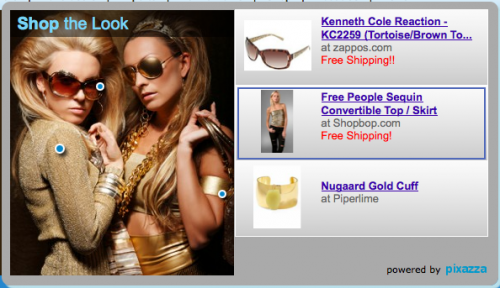 The technology, from vendors like gumgum and Pixazza is fairly rudimentary, as described by the Times:
Companies like GumGum and Pixazza tag the paparazzi photos with links for buying the clothes. They hire people to look at photos and match the clothes they are wearing with the same or similar, more affordable items from retailers like Bloomingdale's, Nordstrom and Zappos. (Image recognition technology is not yet sophisticated enough to automate the process, they say.) The companies get a small fee from retailers when a shopper clicks on or buys an article of clothing.
Essentially, the technology turns the celebrity photo into an ad for the clothing the celeb is wearing, endorsement or no:
"Publishers and readers look at it as this really informational resource," said Ophir Tanz, chief executive of GumGum, which tagged the photo of Ms. Jolie with one of its "Shop this look" badges. "We look at it as an ad unit."

Celebrity sites are an obvious place to start with this business, but photos all over the Web could be turned into ads or e-commerce portals, said Bob Lisbonne, chief executive of Pixazza. Pixazza plans to add sites that cover travel, sports and interior design.
I see this as further validation of the integration between content and commerce. Why have a magazine brand and a retailer as two completely separate entities, with the information about where to buy what's featured in the spreads hidden in the small type at the back?
We've long said that "Every company is becoming a media company" in the age of the assembled web – and that includes learning how to take advantage of commerce opportunities around content just as much as it means learning to leverage content in the context of commerce.