Over the last year I've served as a reviewer for a few books for Packt Publishing, focused on WordPress:
All three have now been published and are worth checking out. Details of each below.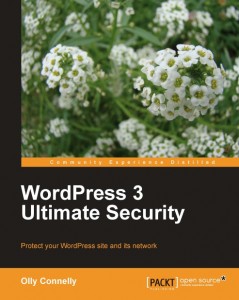 The earliest of the three to be published was Olly Connelly's WordPress 3 Ultimate Security.
Connelly covers a broad swath of general web security while honing in on WordPress: everything from securing your home wifi to setting up ssh on a remote linux server. Though the advice is most deep for people on dedicated servers or VPS's where they control the whole stack, there's a lot of useful info here for folks on shared hosting as well.
He also covers troubleshooting, recovery, backing up (sometimes necessary for recovery!), and many of the plugins available aimed at making WordPress more secure.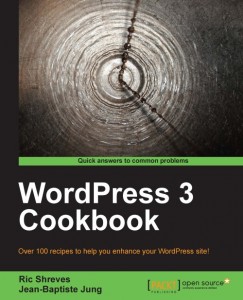 The second (in publish order) was WordPress 3 Cookbook by Ric Shreves and Jean-Baptiste Jung.
This one takes the familiar form of a cookbook, presenting a series of "recipes" for how to accomplish specific tasks using the WordPress platform.
The recipes range in complexity from very simple tasks requiring no plugins or code editing (just using WordPress' built in settings) to complex theme development and plugin configuration.
The current sample chapter on the Packt site is Chapter 5, "Building Interactivity and Community" which gives a good sense of the style of the book. (Though I found Packt's free chapter function non-functional in Chrome – try Firefox instead).
I won't even hold it against them that they chose to suggest Simple Facebook Connect over my own WPBook as a way of doing WordPress Facebook integration. ;)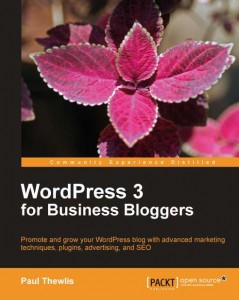 The third was WordPress 3 for Business Bloggers by Paul Thewlis, which, as the blurb has it:
shows you how to use WordPress to run your business blog. It covers everything you need to develop a custom look for your blog, use analytics to understand your visitors, market your blog online, and foster connections with other bloggers to increase your traffic and the value of your blog.
It's got a case-study format, based on a kind of individual-consultant-professional style blogger using his blog to show his professional knowledge and spread a personal brand – but the lessons are applicable to a wide variety of different kinds of bloggers.